The Math Factor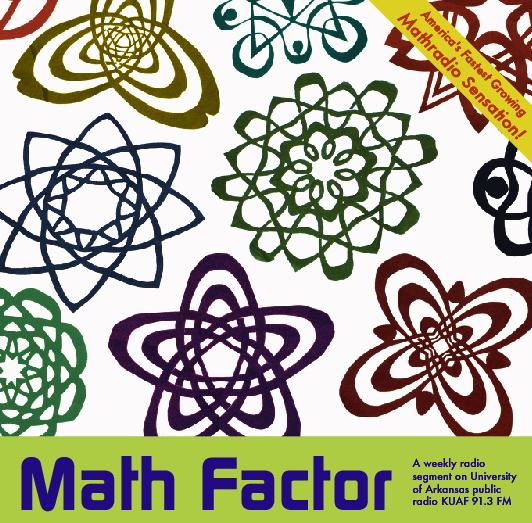 ---
---

In the fall of 2003 (as a strategic move to have the department seem more community minded) I began putting a weekly puzzle problem on the University of Arkansas campus wide listserv. This caught the attention of the inimitable Kyle Kellams, creator of the now daily hour-long magazine format radio program, Ozarks at Large. Kyle has the amazing ability to interview anyone, seemingly about anything, asking good and insightful questions that lead in great directions. His program has a voracious appetite for content, and soon I was an on-air regular, on the Sunday 9 am show, mining Martin Gardner's old columns. O@L has a close relationship with its listeners, and we had folks writing in from the River Valley all the way up to Madison Co and out to NE OK.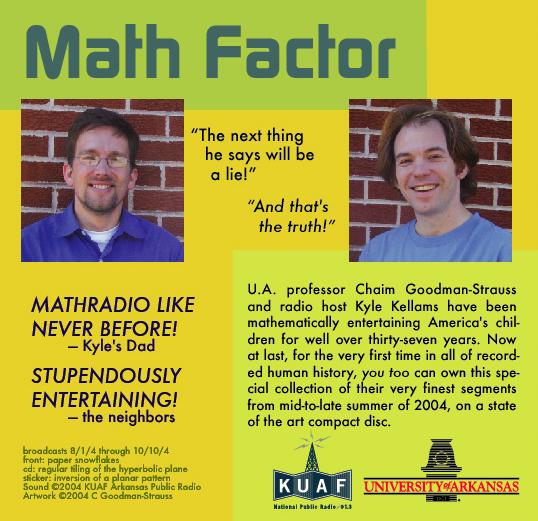 The UA PR department commissioned these CDs, with a sticker inside!, to hand out to some visiting science communicators, in 2004. On the CD is a discussion of the relative sizes of infinities. Zeno's paradox, infinite sums and series, and the countability of the rationals, all as puzzles in short radio segments. Kyle's abilities as an interlocutor really come through: if you listen, you can tell that he is ahead of me on Cantor's diagonalization proof.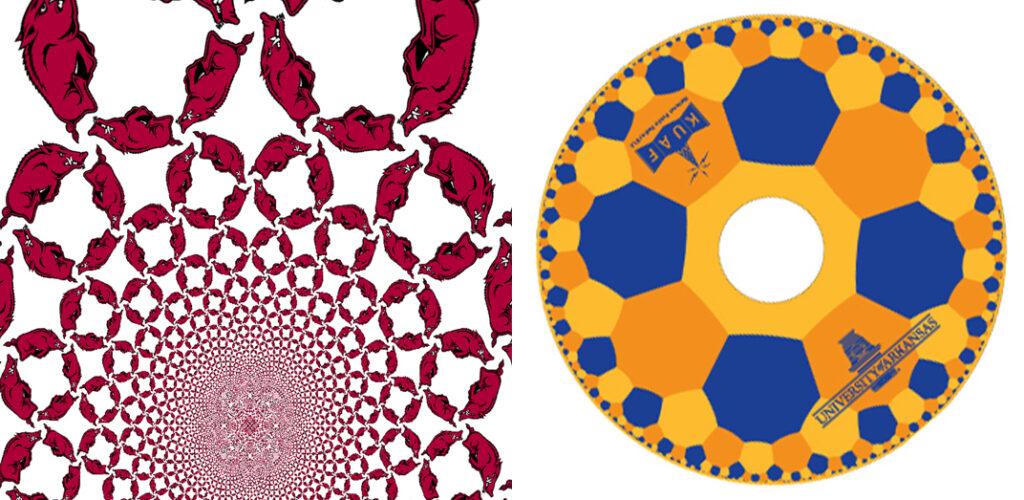 A couple of years later, I began posting these as a podcast, and then with the mathfactor website. Soon listeners across the English speaking world were responding with their solutions and ideas, and posting puzzles of their own. Two listeners, Jeff Yoak and Stephen Morris, began posting their own material regularly, and juiced by free copies, the Mathfactor interviewed many of the authors putting out general interest recreational math books in those years.
We kept this going into 2010, faltered and made another run at things in 2012, but our duo had run its course.
Here are some of my favorites, at least that I can quickly find this morning.
Talking to folks at the Fayetteville Farmer's Market, and dispatches from Bamboopalooza and Bamboopalooza 3.
Here's a typical early segment, on bananas and rockets.
Conway talks about Martin Gardner, taped in a garden in Oaxaca.
Edmund Harriss's first visit to Fayetteville, AR.
Greg Chaitin on undecidability.
Art Benjamin explains some of this mathemagic!
John Conway comes on to promote our brand new Symmetries of Things.
Bill Poundstone discusses the Prisoner's Dilemma.
And about 180 more segments!
Tags:
mathfun
,
radio